Background of Burwood Park Foundation (Charity No. 311873)
The Burwood Park Foundation was formed when Burwood Park School, a non-maintained special school for deaf students, closed in 1996.  The school itself had opened in 1955, as a selective Technical School for deaf boys.  Its Founder was Lady Boyd, who had the Guinness Family Trust's house in Burwood Park, Surrey, adapted as a school.  Her advisors were Professor Sir Alexander and Lady Irene Ewing, pioneers in early diagnosis of deafness, and of oral education of deaf children.  A Governor and Trustee of the school was Malcolm McAlpine, who, with his wife Sheila, established the Ewing Foundation in 1952.
Burwood Park School was never large.  It opened with 35 pupils aged 11 to 15.  In 1973 it developed a Sixth Form, Norfolk House College on the site. In 1991, after a number of unsuccessful applications, it was finally allowed to admit girls when Woodford School closed.  There were then 57 pupils on roll- the school's maximum number.
Despite becoming co-educational, and ceasing to be a selective school, numbers on roll gradually fell, and the school closed in 1996 with 44 pupils.  Some pupils were given places in local provision, but a significant number transferred to Ovingdean Hall School near Brighton.
The Charities Commission gave permission for the Burwood Park School to become a charitable Foundation with the residual funds from the sale of the school buildings.  Lord Boyd, the son of the Founder, and the Trustees gave small grants related to the education of deaf pupils to a range of applicants, mainly for specialist equipment.
In 2006 the Board agreed to pass the management of the charity to the Ewing Foundation. A plan was devised to use the income from the charity's investments to fund a specialist post offering support for deaf pupils with additional special needs.
Malcolm McAlpine became Chair of the new Board, and Pauline Hughes, who had joined the Ewing Foundation in 2005, stayed on as a Trustee.  New Trustees joined this Board: Hamish McAlpine (Chair since 2011), Carole McAlpine, Susan Knowles and Lindsey Rousseau.
Joyce Sewell Rutter, was appointed in 2008 as the first employee for Burwood Park on a part time basis. She was already an education consultant for the Ewing Foundation. Her development work, promoting the work of the Foundation, has included:
Children with complex needs in special schools
Deaf children with Down syndrome
Children and young people with CHARGE association
Deafness and autistic spectrum conditions, including:

Special Interest Groups (in association with BATOD)
Contribution to the MESH Guide (BATOD Foundation) for Autism and Deafness
Collaborative work with NDCS providing information for families

A technology loan scheme
Training in the use of 'Clicker' and recommendations for use of relevant listening, reading, writing and communication apps
Responding to requests for support and information from teachers in schools and colleges and families
Workshops and conferences for professionals and families in a variety of regions and settings
Teachers report that one of the real benefits of having Burwood Park support is the time spent in discussion and the ability to focus in detail on the learning style and needs of the individual young person.
Staff and families always appreciate the visits and have said it gives them confidence to know that no one is an expert, especially where deafness is combined with additional special educational needs.
With the retirement of the current consultant in 2020 the Trustees have reviewed the scope and remit of the role. The Board envisages that the Burwood Park work will be merged into the Ewing Foundation. Designated Burwood Park activities will be clearly identified, the resources ringfenced, and the activities to support deaf children with additional needs will continue.
We will be looking to recruit a Qualified Teacher of the Deaf with extensive teaching experience in a range of settings including the special school sector. This person will demonstrate passion for, and commitment to, the inclusion and achievement of deaf children, and deaf children with additional needs.
We anticipate that the amount of work to deliver the post will be flexible and will average 0.4 FTE over an academic year. The Trustees would consider combining this post with the recruitment of the new Ewing Foundation education advisor, or as a stand-alone Burwood Park post.
A review by Burwood Park Consultant Joyce Sewell-Rutter
I was appointed as a Consultant in this much needed role in 2008. The numbers of deaf children with additional learning needs was on the increase at that time and the recognition of a complex SEND population was only just emerging. Many special schools for deaf children were closing.
The early requests focused around deaf children with Down syndrome and CHARGE syndrome.  There were also requests from teachers in schools whose pupils were not making expected progress. I also made visits to special schools where young people with complex needs were placed. Support offered took the form of visits and observation followed by a report; added to this were suggested strategies and signposting to other resources. The duration and frequency of visits varied depending on availability of teacher, family, other professionals and the context. Some visits were spread across a term and progress was noted and analysed. Children and young people with additional needs often make small steps of progress.
In many cases observations showed that pupils were being exposed to a curriculum that was not sufficiently differentiated, some found the pace too fast and one or two had specific language or behaviour challenges.
In addition to encouraging greater use of hearing amplification and assistive devices it soon became apparent that use of rapidly developing computer technology was beneficial. Multimedia software provided visual support as well as focused opportunities for listening, reading and writing, and without the fear of failure.  Crick's programme 'Clicker' (complex software until mastered) was successful in a range of contexts, as well as being adopted by the mainstream school in some cases.
The arrival of the iPAD extended opportunities for both learning and communication.  Following real impact with one device it was decided to establish a Burwood Park Foundation loan system to give teachers a chance to see what could be helpful, and also to provide evidence to schools and Local Authority specialist support services of the potential for learning that tablet technology offered. Training was given to individuals and teams.
I facilitate a special interest group in Deafness and Autism in collaboration with the British Association Of Teachers of the Deaf. This group has been meeting for 5 years with annual training events. Training in this topic has also been offered to teams in both education and health.
As there is limited support for families specifically for Deafness and Autism, I have extended the training events to include them. Following contact with parents, guidelines were produced for the NDCS, and a MESH Guide on Autism and Deafness was developed through the BATOD Foundation.
Raising awareness of the free consultancy service offered by the Burwood Park Foundation remains a challenge. Initially the work was focused in London and the South East but considering each request on demand, travel has been from one end of the country to the other. Teachers report that one of the real benefits is the time spent in discussion and the ability to focus in detail on the learning style and needs of the individual young person.
Staff and families always appreciate the visits and have said it gives them confidence to know that no one is an expert in every child's needs and often approaches have to be tailored for a child or young person.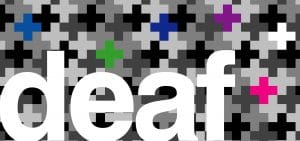 The Burwood Park Foundation logo has shades of grey representing all levels of deafness, interspersed with coloured crosses encompassing a range of learning needs.  The photo on the reverse helps with credibility and security with charity number and contact details.
If you would like to know more, please contact me, Joyce: burwood@ewing-foundation.org.uk