Updating Skills
The Ewing Foundation team members endeavour to keep abreast of new developments through our excellent relationships with manufacturers, policy makers and a variety of organisations. We are therefore frequently called upon to work with a range of professionals and organisations to share our skills and knowledge to ensure optimal outcomes for deaf children.
For example, a Technician recently ran training days in London, Warrington and Wales for staff from cochlear implant centres on the use of personal FM systems with implants and Consultants have demonstrated the use of language assessment tools.
Our Technician and Consultant provided a training update session for ToDs in the North West on the use of personal FM systems with cochlear implants. Feedback from participants was very positive, with comments including:
Excellent delivery and appreciated hands on approach
Useful being able to ask questions in workshop
Relevant – FM / CI
Superb information
Case Study
Language Assessment
We offer training in language assessments to ensure Teachers of the Deaf maintain their skills.  Standardised assessments such as the Assessment of Comprehension and Expression and the New Reynell Developmental Language Scales are offered with hands on training and discussion in small groups.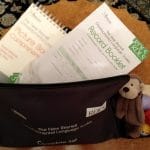 Our customised training: Listening into Language, and Speech Perception Measures are also available. The day included:
Video of a deaf child to see the assessment in use
Hands on sections of the assessment, opportunities to anyalyse a transcript and follow the scoring rationale
Open discussion of pros and cons
In this way, quality time was devoted to the task and specific skills were developed in addition to decisions about the appropriateness of the materials for the team.